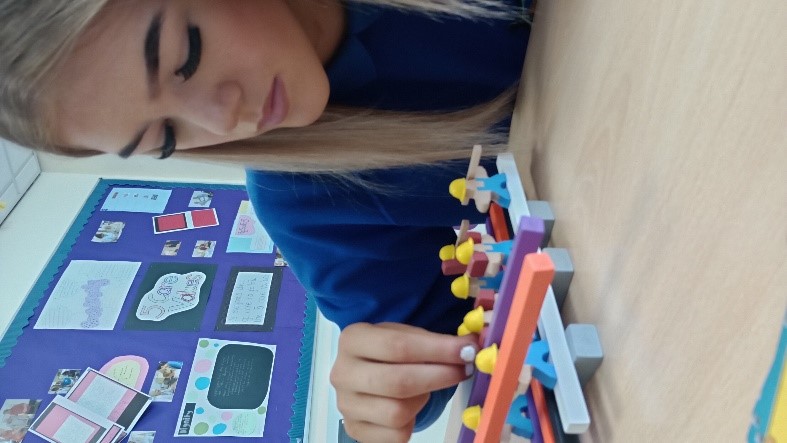 It's been great to be working across Southwood, Northwood and Westwood sites again this term. It is a privilege and a pleasure to engage in games around a table with pupils and students at ELA.
The manual dexterity game Rhino Hero was well received when introduced and has continued to be enjoyed – even by visiting teachers.
It was proving such a hit that I sought out a second balance game to teach. Men at Work has been a recent favourite since first sharing it last term.
In Cobra Paw players roll a pair of dice and fight to quickest to pounce, with a single finger, on the matching tile.
Dragon Master is game from Maths Professor turned Games Designer Dr Reiner Knizia. It sees players taking turns to lay cards into a 4x4 grid. Cards are numbered 0, 1, 2, 3. Single cards in each row score face value, pairs score 10x face value of one card and three in row scores 100. Its only your LOWEST scoring row that counts and whoever has the highest score on that row wins. Confused? You have to keep an eye on your downside.
Star Realms is a two player "deck building" space battle in which cards can be used to buy other cards to strengthen your deck and attack your opponent's base.
Why Board Games?
Board games gather people around a table and allow social connections to be strengthened. They provide an opportunity to switch off mobile phones and get away from screens. They encourage social interaction and require the disciplines of turn taking, working with rules, and managing the emotions that go with winning and losing. Playing board games supports the development of numeracy, literacy, and oracy. They foster the development of spatial awareness, pattern recognition, and require the use of planning, strategy, and tactics. In other words, games present a rich opportunity for shared experiential learning of the kinds of skills that all of us need for life – whatever path it takes. And games, played well, are fun. And that's good for all of us.